Mascots: Slider ('05-)
Slider "can't hear you!"
Slider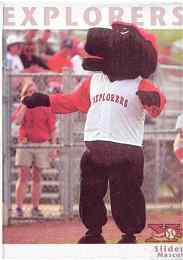 According to his 2005 card
Slider joined the Explorers family in the spring of 2005. Slider has fit right in with the X's and is enjoyed by all during the games. Whether he is wagging his tail or dancing to the musice his i constatnly in motion. SLider loves getting his picture taken with adoring fans and he can't wait for the start of another great season with the Explorers.
What the card does not say is that one of Slider's main tricks is to raise one of his ears in an "I can't hear you" call to cheer on the X's. He can often be found on top of the dugouts when not walking the concourses entertaining the fans and greeting kids.
Slider is also the latest of the Explorers' mascots. Previous mascots included dinosaurs and an bearded explorer. See the Explorers mascots page on nlfan.com for more history of X's mascots while the was part of the Northern League.